It STINKS!!! A LOT!!!
Mommy sent me this, and I like it. I love supporting getting rid of Breast Cancer, and All Cancers! And with M&Ms Too! YUMMY!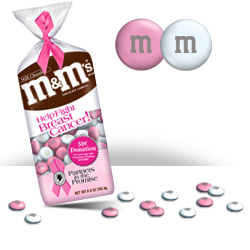 New Pink & White M&M's!!! YUMMY!!!!
The maker of M&M candies has teamed up with the Susan G. Komen Breast Cancer Foundation to raise funds through the sale of their new "pink & white" M&M candies. For each 8-ounce bag of the special candies sold, the makers of M&M (Masterfoods) will donate 50 cents to the foundation. The next time you want a treat, please pick up a bag (now sold in stores nationwide) - you will be donating to a great cause and satisfying your sweet tooth.
For more Breast Cancer information and information on how you can help fight this STINKY disease, check out these sites: